Photography worthy spots in Southern Iceland
Iceland Waterfall Guide
Are you looking for some of the best waterfalls spots in Iceland, then this is the guide to you. I've travelled and photograph several times in Iceland, and this is a guide how to get to those amazing spots. We will in this guide go through some of the greatest waterfall in the southern part of Iceland.
Best Waterfalls to Photograph in Iceland
Perhaps my favorite waterfall of all time. Not just for Iceland but for all the places I've been to. This massive waterfall is 25 meter wide and 60 meter high, so it's quite a massive one. It's also one of the first waterfall you will get to, when you drive from Reykjavik to east, and it's so easy to get there.
You can see the waterfall from the bottom of the waterfall, and you can get quite close to it. Just be prepared to get wet. I stood for 5 seconds in close to the waterfall, and I was completely soaked. If you want to explore more in this area, you can walk up the stairs there is just next to the waterfall. Here you can see the waterfall from a platform. You can also walk further from the platform, and here you can explore even more waterfalls. They are definitely worth visiting if you have the time.
Photo Tip for Skógafoss
Get there early as possible. Be quick if those "big" photos to avoid people in your photo. Try and do longexposure photos here, it's a perfect waterfall for it. Use a good midrange lens, like 24-70mm so you can get both wide and more up close shots.
Best time to visit Skógafoss
Are you are photographer like me? Then you can properly imagine that having a place like this for yourself is every photographers dream.
Skógafoss is perhaps one of the biggest tourist attraction, so it's hard to have this place for your self. If you're here in summertime, and you get up early before sunrise, you might have it all for your self for few minutes. Else you can properly expect that there is always people here. In winter time, you might be more lucky.
How to get to Skógafoss
If you have your own car (or rental) it's so easy to get there, you actually can't really miss it, because it's just right at the road.
Link to Google Maps: Skógafoss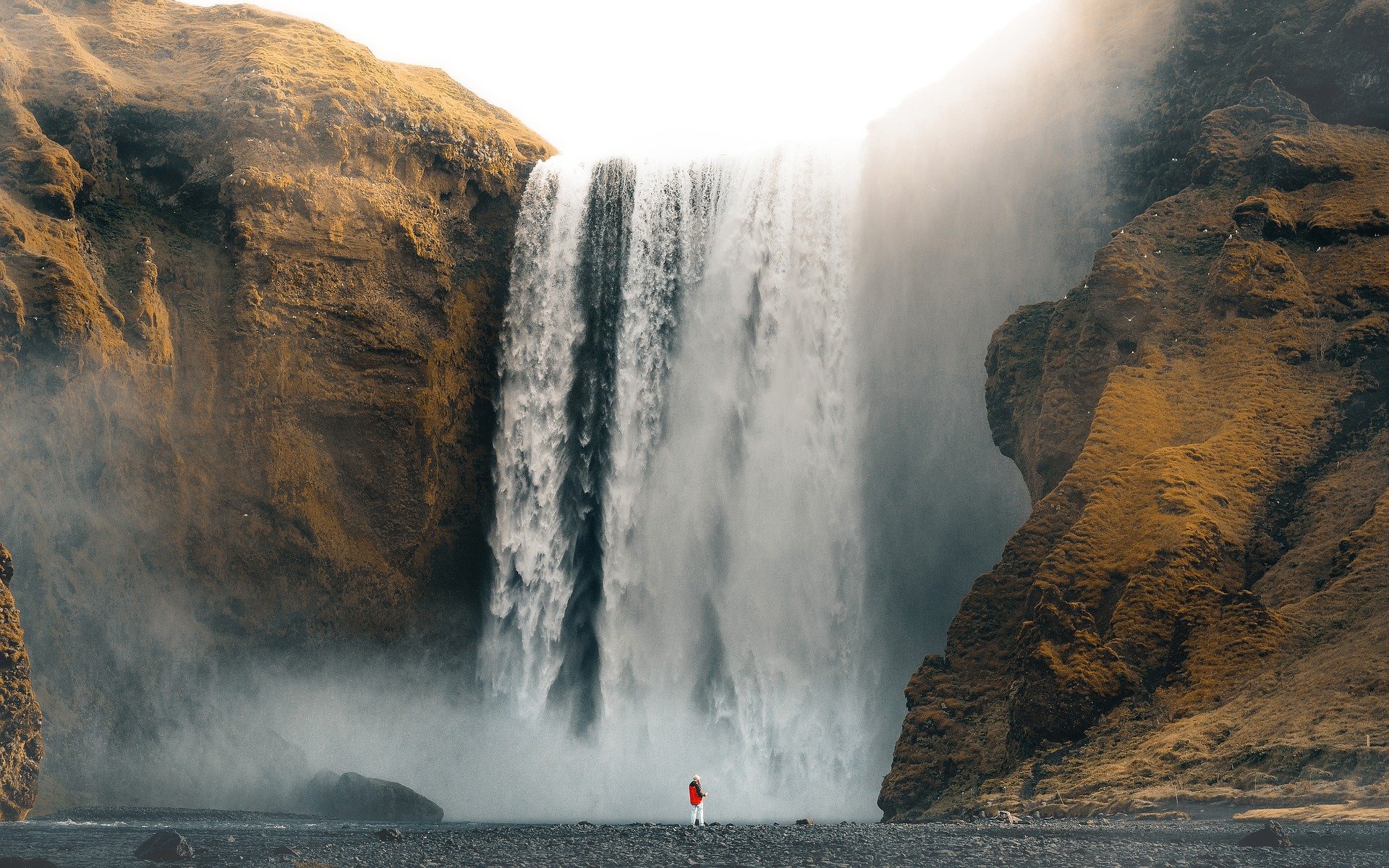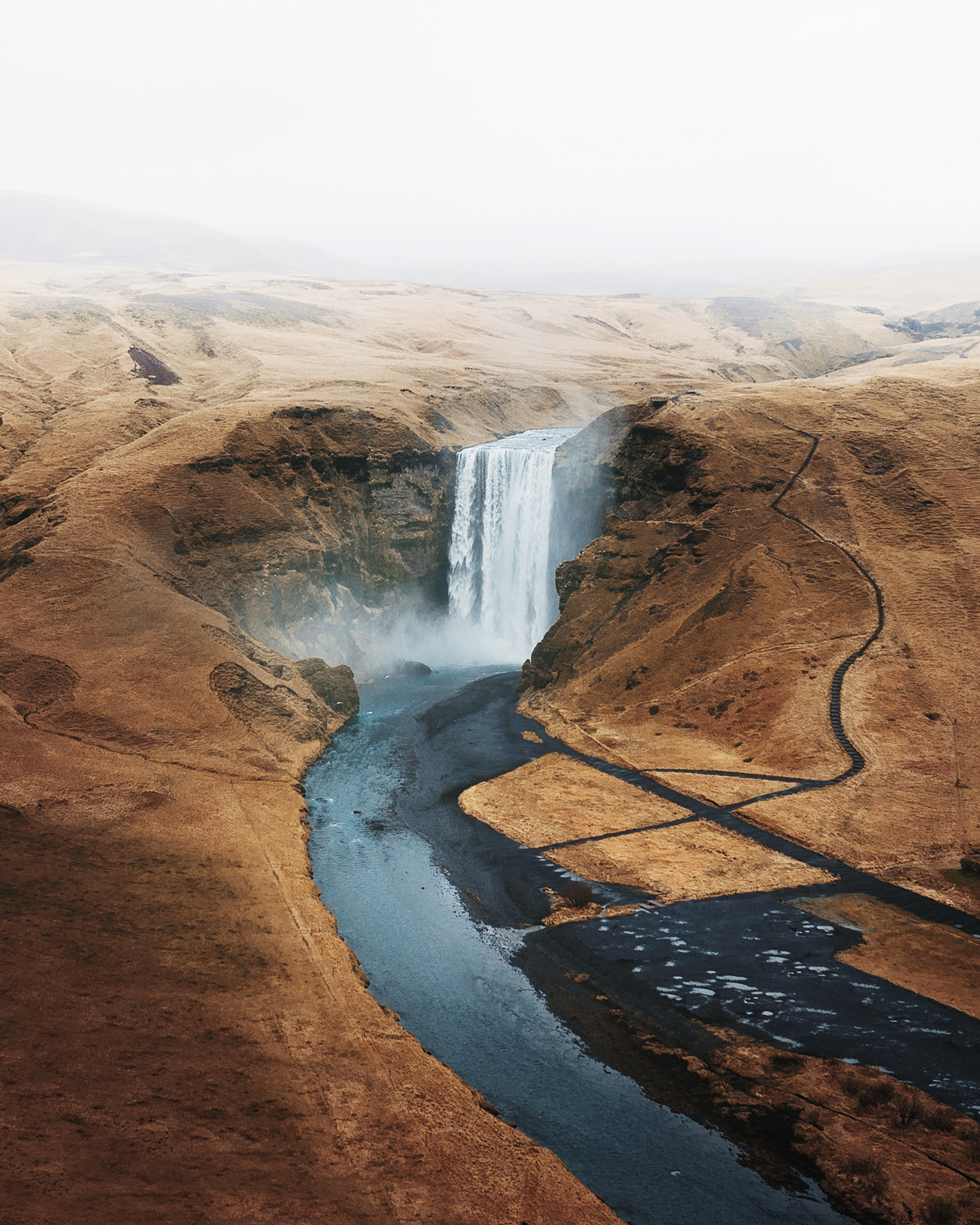 2. Gljúfrafoss / Gljúfrabúi
"Dear child has many names" – Don't know if you are familiar with that sentens, but this waterfall have two names apparently, and I'm not sure why, but that doesn't make i less spectacular.
But about this waterfall. It's (also) one of my favorite waterfalls from Iceland, it's an absolute must see! You can't really see it from the outside, because it's hidden. But You have to walk close to it for getting the full experience. You might, or properly, you will get wet. To get close to the waterfall you have to walk in a little gorge, just few meter, and here you will properly get wet feet. Sometimes there can be a lot of water, so it goes all the way up to your knee, but it's totally worth it.
Photo Tip for Gljúfrafoss
Bring just your camera and tripod, and take on your widest lens on. I have tried with 14mm and 16mm lenses here, and they did good here.
Best time to visit Gljúfrafoss 
You can visit this waterfall pretty much all year. Just be prepared that during spring there might be a lot of water, so that makes it a bit harder to get close to the waterfall. I would recommend to take off your shoes, or bring spare ones, because they will get wet. It's also very slippery, so walk with care and have patience.
How to get to Gljúfrafoss
Getting here is very easy, and you can park very close to it. You won't see the waterfall immediately, because it's so hidden.
Link to Google Maps: Gljúfrabúi / Gljúfrafoss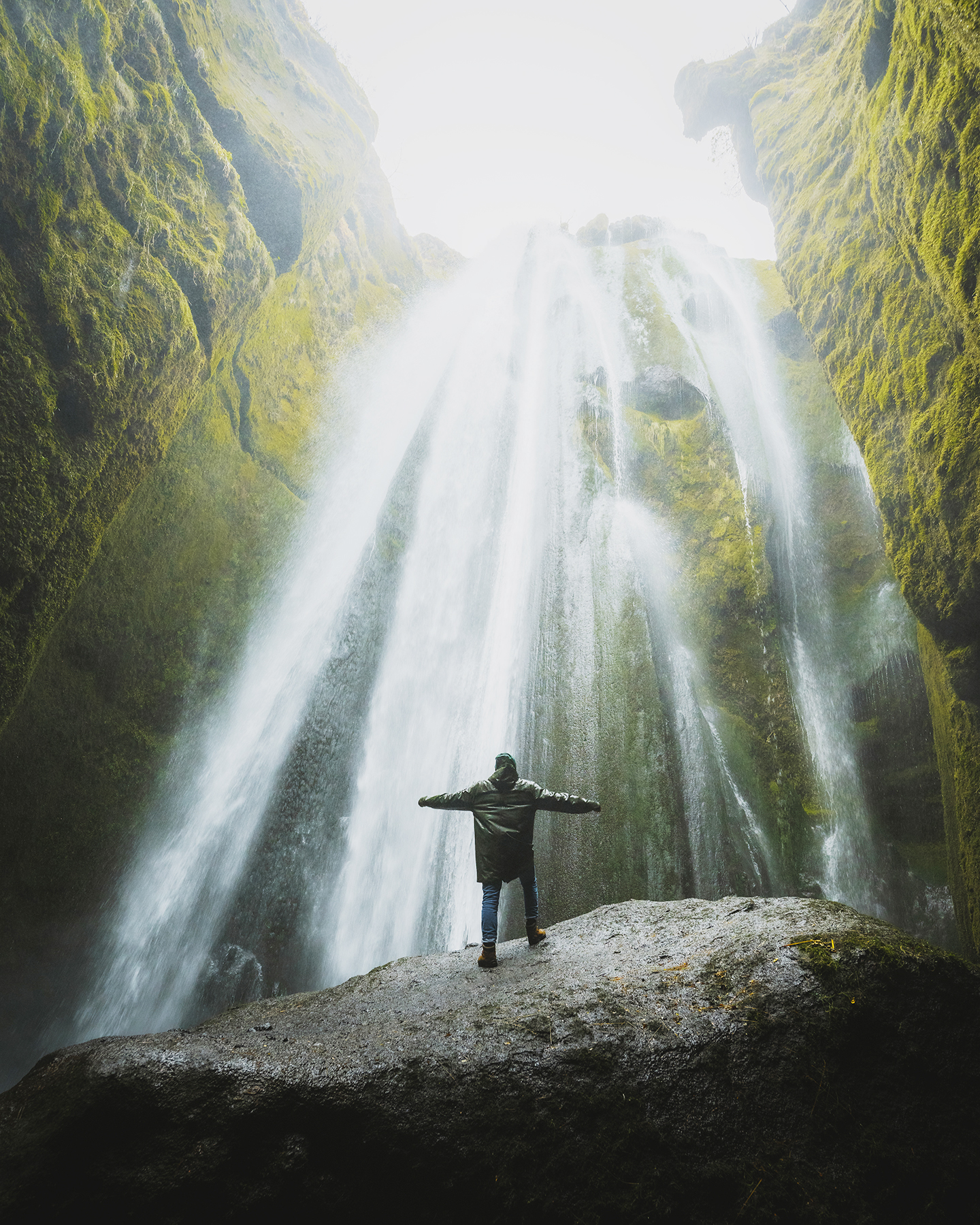 This elegant waterfall is also a well known one, and it's right next to Gljúfrafoss, just under 600 meter, so you can visit both waterfall within short time. With it's 60 meter drop you get a fantastic waterfall with a bit of extra. This waterfall you can go behind it, which is such a fun experience, and you can also get some quite nice shots from behind of the water.
Photo Tip for Seljalandsfoss
There is a good chance that your camera will get a bit wet if you're too close, but else it's not a problem changing lenses here. A good wide angle lens is preferable. Bring some kind of cleaning cloths to make sure there are no rain drops on your lens.
Best time to visit Seljalandsfoss
This location is also a popular place, so it's close to impossible to have it all for your self. You could try and get here early and you may be lucky.
How to get to Seljalandsfoss
Seljalandsfoss is also a waterfall right next to the road, and when you get there you will be amazed immediately. You can't miss this waterfall while driving on the ring road (Route 1).
Link to Google Maps: Seljalandsfoss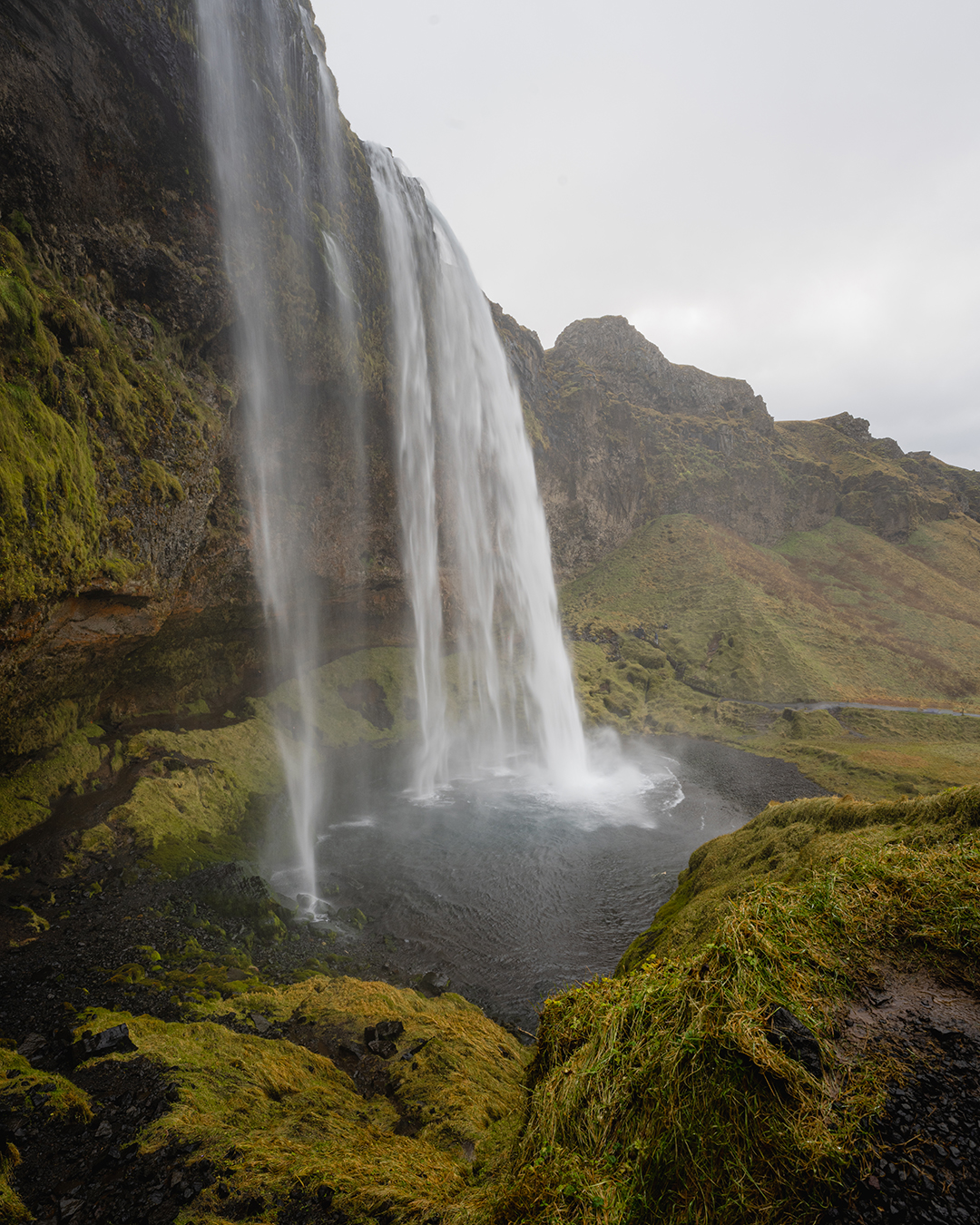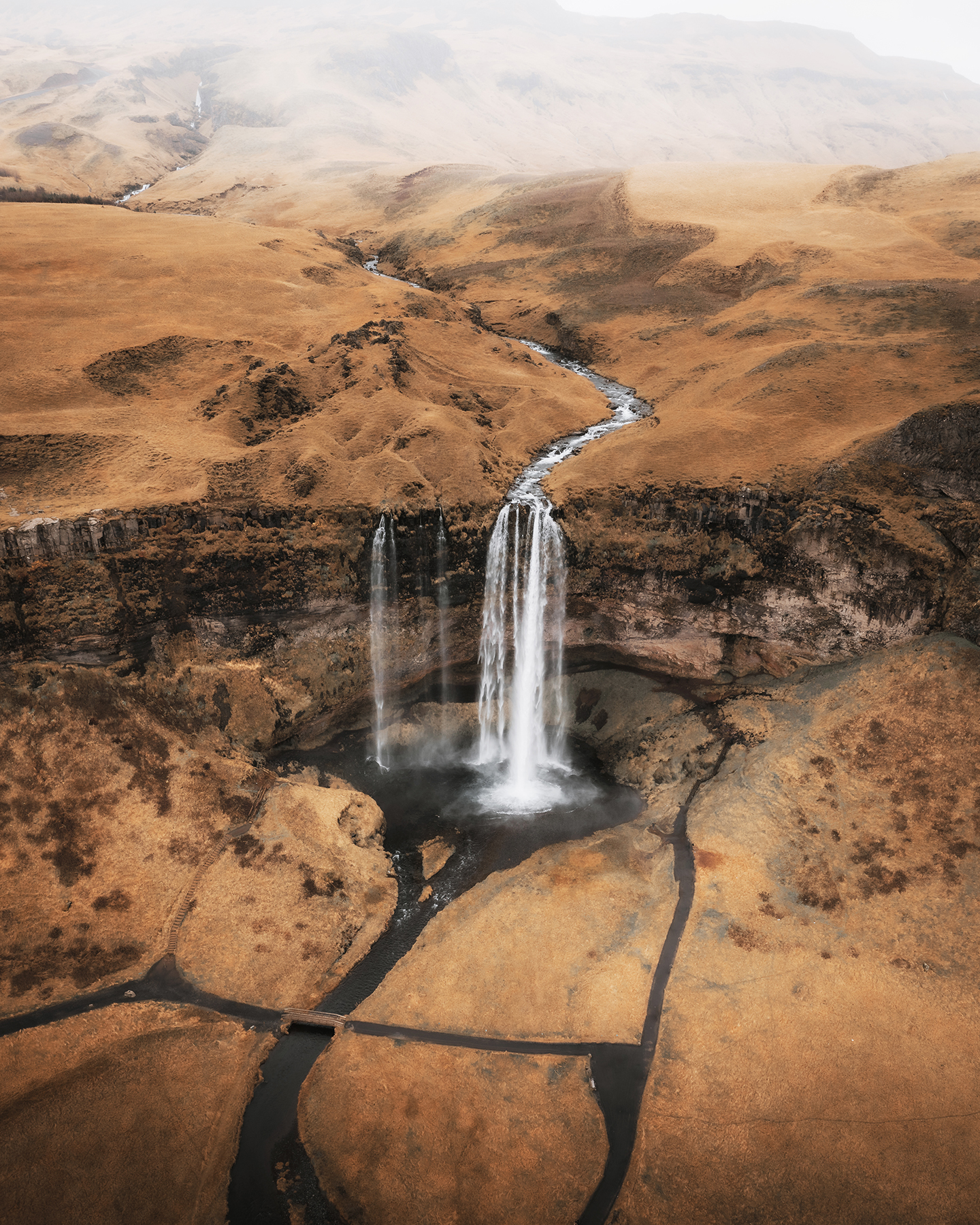 Another waterfall where you can go behind it, and get some great photos! I've only been here once, but it didn't seem like a busy location – so this is a perfect waterfall if you want to have a better chance to have it for yourself.
Photo Tip for Kvernufoss
At this waterfall I will also recommed to have something to dry your lens, because it will get wet. But if you go behind the waterfall it's dry, so thats quite nice. Bring a wide angle lens for this one, and also a ND filter, so you can get some nice long exposure.
Best time to visit Kvernufoss
Here you can be at anytime of the day. Even when it's raining its still beautiful. And the walk to the waterfall isn't that long, so its fairly easy to acces for most people.
How to get to Kvernufoss
Kvernufoss is a bit hidden, but if you just drive to the Parking spot, you will be OK. Then it's just a short walk to the waterfall.
Link to Google Maps: Kvernufoss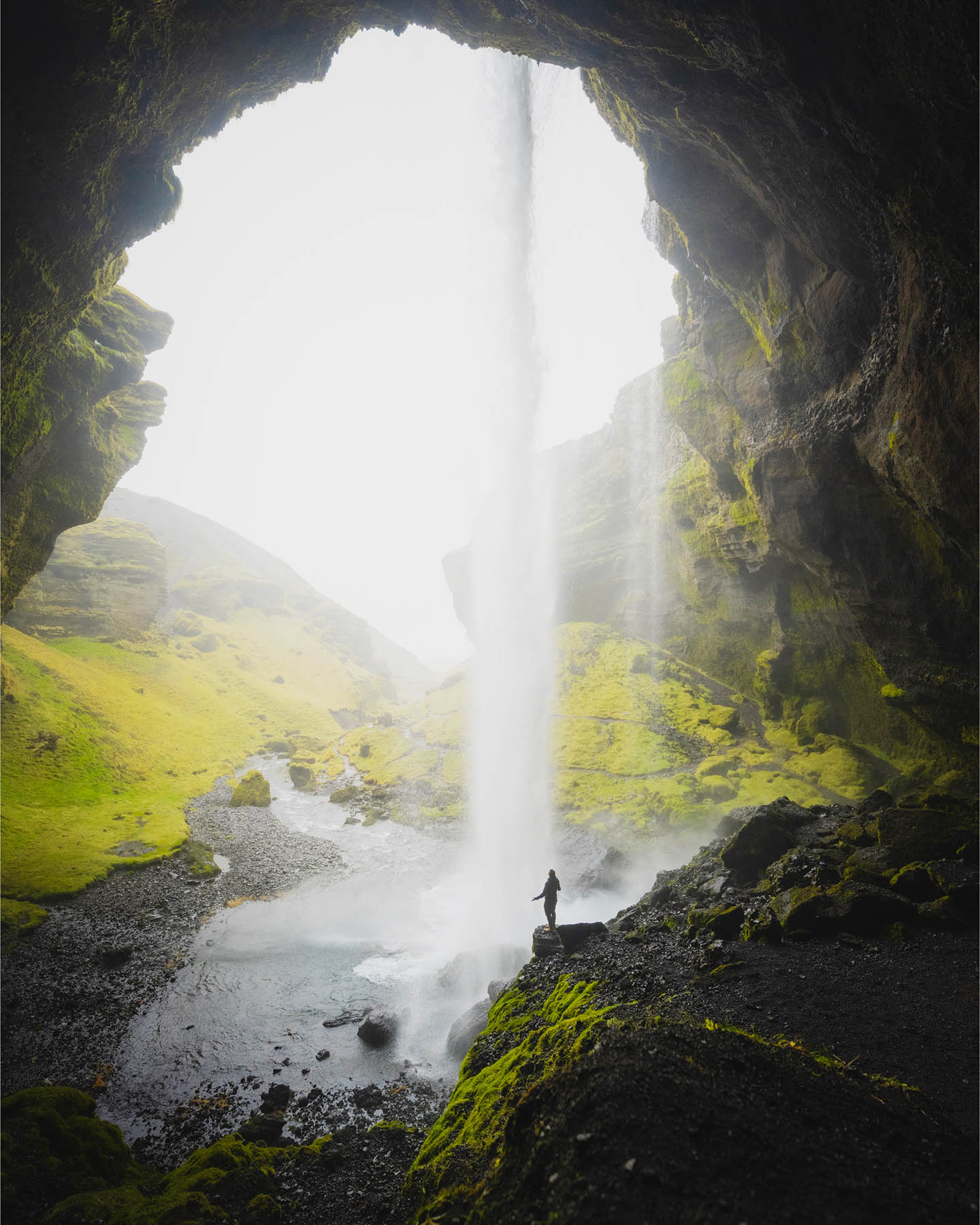 This location is such an iconic place. The waterfall it self isn't that exciting, but the combination with the waterfall and Kirkjufell Mountain at the background just makes it perfect!
Photo Tip for Kirkjufellsfoss
Here I will also recommend wide angle lens to get both waterfall and mountain peak. Stay on the path and bring a tripod, to get a sharp shot of this beautiful scenery.
Best time to visit Kirkjufellsfoss
You can visit this any time of the day, but if's very cloudy you may not be able to see the mountain peak, so try and plan your visit to this location on a more clear day. If there is chance for Aurora Borealis, then this is also a great location.
How to get to Kirkjufellsfoss
Very easy to get here, and there is a parking spot. From the parking spot it's a very short walk.
Link to Google Maps: Kirkjufellsfoss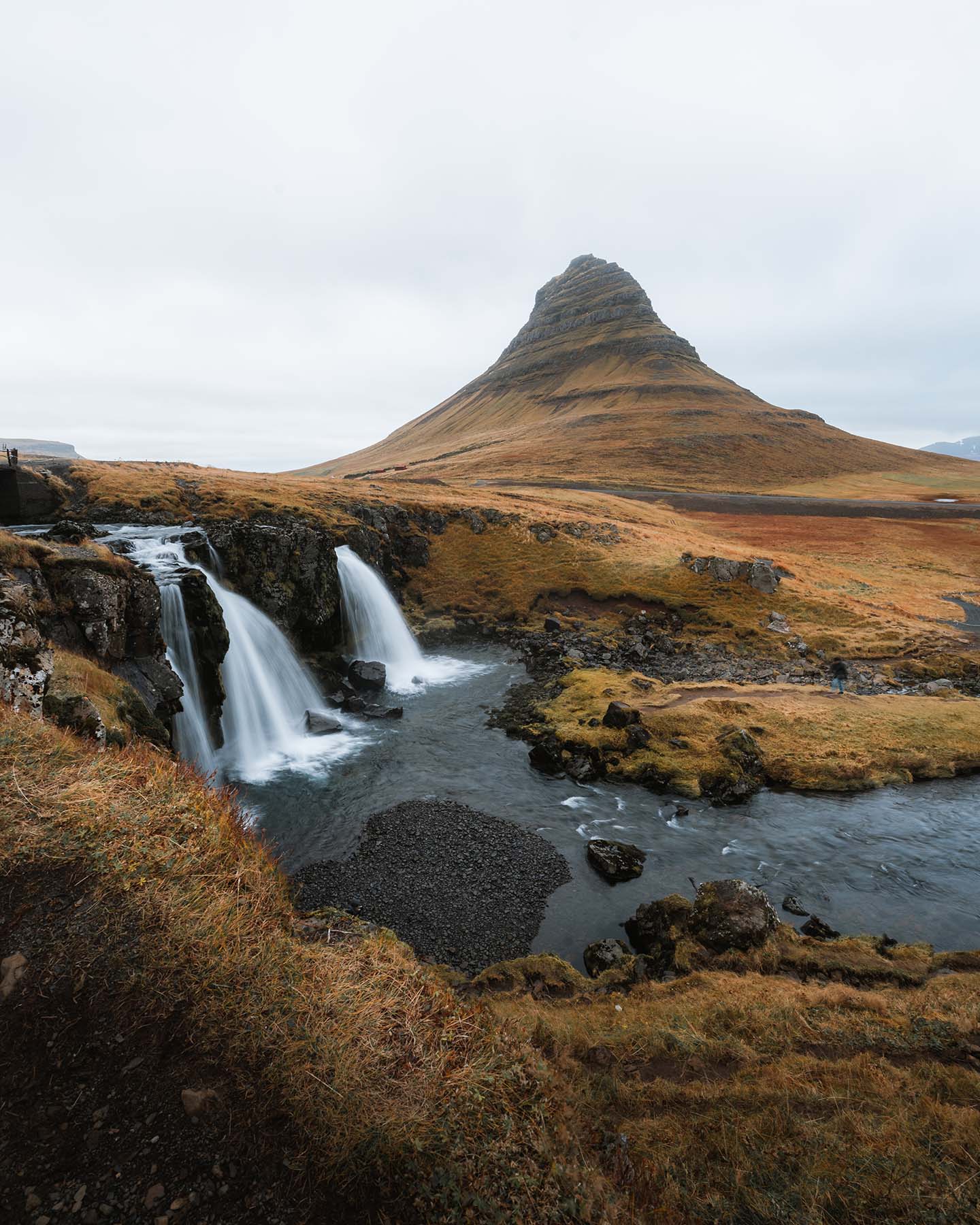 Get my exclusive Iceland Map
Do you want a map over some of my favorite location, then I've the map for you. This map is not just waterfalls, but every great location. Mostly in the southern part.
Use the donation button below, and after succesful donation you will be redirected to the Map-page. Save that URL link so you are sure you won't miss it. There is over 20 spots on this map, so there is plenty of places to explore